As 2016 nears an end, clients often ask, "How do I spend my Christmas bonus money on diamonds… and make sure it's a purchase I'll be happy with for a long time?"
If you are a professional woman, a man smitten with the love of his life, or a collector who loves diamonds, our world class diamond cutters and jewelry designers have recommendations based on what private clients request year after year.
With that said, although diamonds can be used as an investment vehicle, we condone intelligent and responsible spending when considering diamonds as a part of your personal portfolio.
For the Professional Woman:
Are you a professional woman who is looking forward to an executive position, perhaps even C-level, in the near future? An aptly-named "power ring" may be the ideal way to invest your Christmas money if you dream of diamonds in your stocking.
Diamond and gold jewelry has been a symbol of status and power for centuries, and in today's competitive workplace, the game remains the same. Many who have achieved the path to success understand that certain items will enhance a professional image. Some accomplish this with luxury cars, designer suits and shoes, or even the type of technology one uses.
A diamond power ring or statement piece can achieve the same result, while at the same time serving as an objet d'art that will last for centuries more. The most popular statement piece will typically be a right-hand ring with a bold design.
Our recommendation:
The 2.28 carat Cushion Cut, laser drilled diamond paired with the Rose Gold and Platinum Ring
The cushion cut diamond is an ideal shape for an executive ring. Its versatile, rounded square, classic shape is not exclusive to diamonds used for engagement ring settings and offers the appearance of a larger size relative to the actual carat weight. When set with luxurious rose gold and platinum, your peers will understand you mean business when your sparkling hand signs off on excellent performance.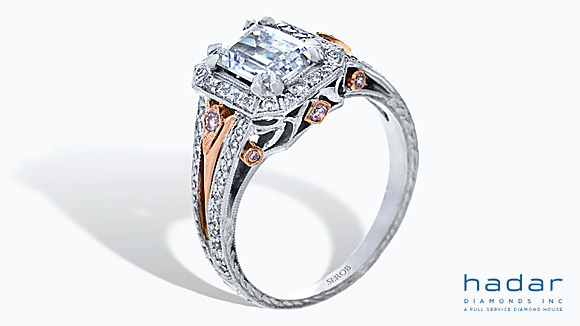 For the Man Smitten with the Love of His Life:
You've loved her for years and it's getting close to that time to officially tie the knot. You have everything you want and you are on the cusp of asking for her hand in marriage. Instead of considering that 77 inch 4k TV (or is it 5k now?), perhaps sharing with the woman of your dreams better fits your idea of a long-term investment.
This special purchase requires some thought, and some men will admit it can be overwhelming. Be confident when you experience a level of customer service found at Hadar Diamonds that many compare to as having a personal diamond concierge who can advise on style – even based on her personality. With over 40 years of expertise, our diamantaires and designers have become very in-tune with what a woman wants in a diamond engagement ring if provided with a brief profile.
Our recommendation:
The 2.01 carat GIA Certified natural HPHT diamond paired with the Split-Shank Halo Engagement Ring
A Round brilliant diamond is a classic choice for an engagement ring, with its round shape representing love has no beginning and no end. If you are choosing a diamond engagement ring without insight from your lovely, an excellent to very good cut round brilliant diamond with ideal color and clarity characteristics is a go-to choice. With top-tier E color, a highly desirable VS2 clarity, and a double excellent rating (cut, polish), the 2.01 carat Round Brilliant diamond set in a lavish halo setting will fit the bill, without breaking the bank.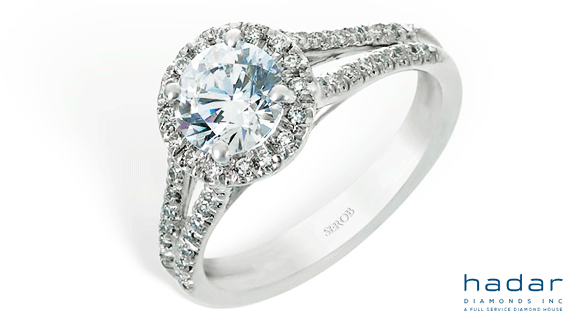 For the Collector who Loves Diamonds:
If diamonds are de rigueur in your circle, or if you have always been enamored with the innate beauty of collection-grade gems, Hadar Diamonds is a purveyor of some of the most exceptionally cut diamonds around the globe. Ideal for clients who appreciate rare, large carat weights and fancy colors, our diamantaires offer exquisite, one-of-a-kind jewels fit for the vault. These collector diamonds are suited for exhibition in your home, for long-term holding, and as accessories for important social events. For collection grade diamonds, we suggest opening a dialogue with us to discuss rare selections in reserve, as well as browsing stunning specimens in the investment diamonds section of the Hadar Diamonds website.
Collector diamonds range from $27k to over $1M.
Our Recommendation:
The 8.55 carat GIA Certified Fancy Purplish Pink, Emerald Cut HPHT Diamond
For pink diamonds of this rare size and clarity, considering natural HPHT diamonds is an ideal choice to literally save millions while still knowing you are wearing a valuable, natural diamond of great beauty and intrigue. HPHT processing is a color enhancement process deemed by the GIA as permanent—meaning the color is proven to always remain the same. As colored diamonds are extremely rare in nature, many pink diamonds available on the common market are irradiated. While irradiation is a common process that can produce beautiful results, it is possible that irradiated diamond colors may fade over time. This does not occur with natural HPHT processed diamonds and explains why many sophisticated diamond buyers who can otherwise afford commonly marketed diamonds are choosing to include HPHT diamonds in their collections.
With this 8.55 carat Emerald cut, you will experience a breathtaking fancy purplish pink color and a lustrous, near-flawless VVS1 clarity. Diamond aficionados who adore Emerald cuts understand that extremely high clarities with this step-cut shape are ideal for an important piece.
We invite you to request the GIA Certificate and actual video of this precious stone.