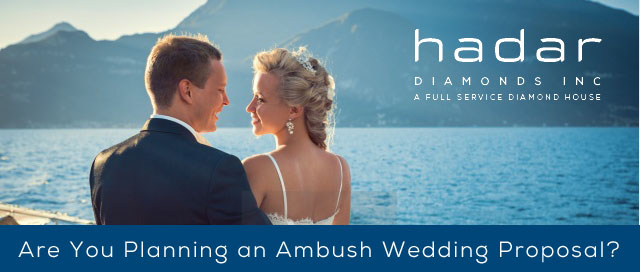 Are you planning an Ambush Wedding Proposal this Valentine's Day? Here's how to get the Diamond Ring of her Dreams in time, and without over-paying!
The Huffington Post reported today that Ambush Weddings could be the newest wedding trend for 2014. Usually reserved for celebrities, so the paparazzi can be avoided, ambush weddings are being adopted by non-celebrities to surprise their significant others, friends and family.
An Ambush Wedding Proposal is when the marriage happens "on-the-spot" after the proposal is made. The advantages of this type of surprise wedding include less stress, lower costs, creation of new traditions, and the most popular—an element of fun!
Why not make the planning easier by ordering a diamond and engagement ring online? You will save a considerable amount of money over brick-and-mortar boutiques (they have high overheads), and you will have many more options in size, color, and even type, such as GIA certified, GIA certified HPHT, and clarity enhanced diamonds. Hadar Diamonds even offers a special preview program where you can see the diamond at no cost or obligation, in the comfort of your own home!
Contact Hadar Diamonds today to learn how you can have the perfect diamond at your doorstep in as little as 24 hours at 1-800-295-6676 or contact@hadardiamonds.com.
Do you have videos or photos of your ambush wedding proposal? We'd love to see them! Email them to us and we will review for posting to our social media sites!