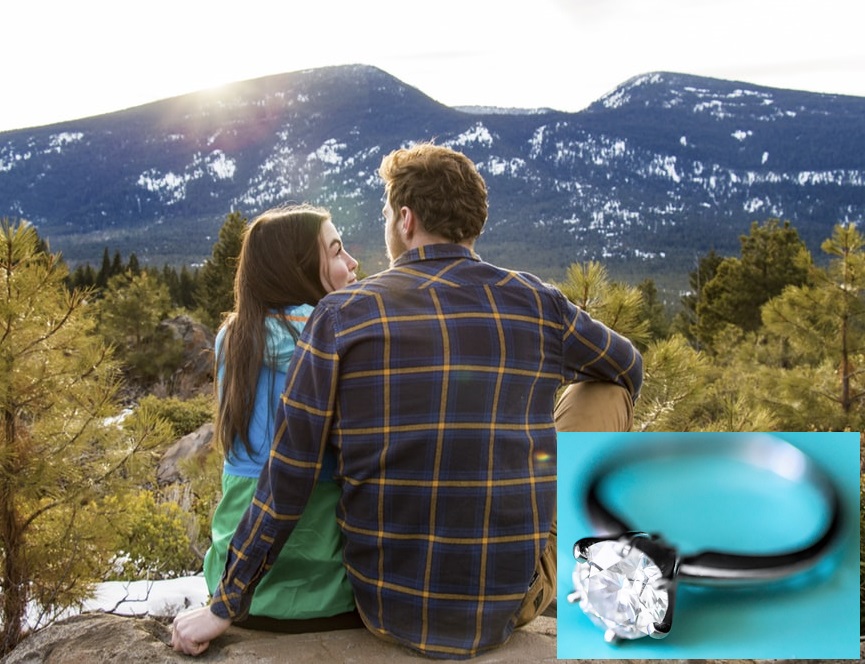 Fall is a great time of the year. It's not too warm, not too cold, it's full of vibrant colors, and it creates many romantic opportunities for that special Fall proposal!
COVID-19 has forced people of all ages into a lay back pace. A romantic proposal that includes a natural diamond would sure add some excitement for days! But the pandemic has also created financial hardships for many. Why not propose with a laser drill natural diamond?
Save up to 50%! Microscopic lasers will make the diamond look just as beautiful and eye clean as one without a laser application.
The Sunset Proposal
Fall sunsets can be more spectacular than any other kind of sunset. The sun lower in the sky, the clouds adding mesmerizing colors, and air that's cool (but not too chilly) create a beautiful, romantic setting. What better opportunity to create an unforgettable proposal?
Find a nice open space (the beach, the top of a hill, even a rooftop), wait for the colors to become spectacular, and then pop the question. Trust us, you'll both remember this special moment for the rest of your lives!
A Morning Workout
If you and your special someone have a particular workout routine, you can incorporate a proposal into it. Suggest a morning jog or surprise her with a drive to a mountain that you both have always wanted to hike.
When you get to a picturesque spot on whatever trail you've embarked on, claim that you want to stop and take a moment to rest. Let that moment be the proposal you remember for the rest of your lives.
A Winery Proposal
A weekend trip to a winery - especially a private one - provides the perfect opportunity for a fun, romantic, and unforgettable proposal. To make your proposal seem extra thoughtful, find out (if you already don't know) what your partner's favorite wine is and visit a vineyard that specializes in it.
Generally, if you give the winery enough notice they should be more than happy to accommodate any special requests or make it more private for you. Once there, try to make the visit extra romantic - walk through the vines at sunset, enjoy wine tasting, or maybe even make some wine yourself! Once you feel the moment is right, propose to your partner and create an unforgettable moment.
About Laser Drilled Diamonds
Laser drilled diamonds are becoming a major contender in the bridal diamond market. We often recommend them to couples who want a highly affordable, beautiful diamond without fillings.
This process improves the clarity of a diamond with an obvious dark inclusion. This is done by utilizing a microscopic laser to remove the spot, resulting in a higher clarity grade than it had in its previous state. The laser fashioning is clean, precise, and does not interfere with the integrity of the diamond.
In general, the results of laser drilling raises the appearance of a diamond that was once I1 to VS2-SI2. A large dark inclusion can impede approximately 25% of the sparkle. The result is a diamond with more fire and sparkle than it had before the laser drilling.
Forward thinkers in the diamond trade equivocate laser drilling to cutting. In the past, inclusions could only be removed by cutting valuable material outside of the diamond. Now, with proven, modern technology, laser drilling allows for internal dark inclusions to be removed without losing mass or sacrificing carat weight.
The GIA deems the laser drilling process permanent, meaning it will maintain its stability and appearance for a lifetime. These types of diamonds require no special care and can be worn like any other diamond. A laser drilled diamond will cost a minimum of 35% less than a commonly marketed traditional diamond of the same quality and characteristics.
For more information, read "What are Laser Drilled Diamonds and Why You Really Want One" or contact us
"The more you know... the less you pay."
Interested in hearing how Hadar Diamonds can meet your diamond and jewelry needs? Email Gerry at Gerry@hadardiamonds.com, call 858-737-4862, or text to 619-572-8100.
All potential clients have an opportunity to view diamonds at home: risk-free, no charge, and no obligation to buy. Free FedEx overnight shipping (with insurance). Go to HadarDiamonds.com for more information.