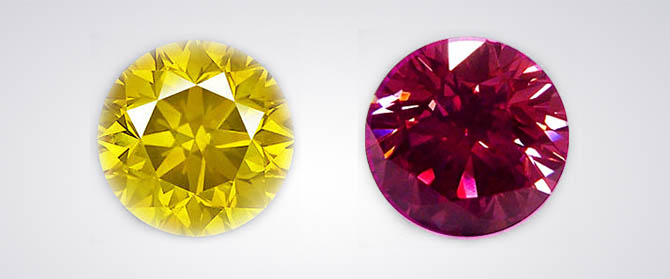 If you're into fashion, you've surely envied the fancy colored diamonds that Hollywood starlets are flaunting. Now you too can adorn the same mouth-watering diamonds as seen on Blake Lively, Carrie Underwood, and Jennifer Lopez—all at an affordable price.
So how does one buy an affordable colored diamond that is extremely high quality and GIA certified? The answer is looking at HPHT fancy colored diamonds. The colors of these diamonds are indistinguishable from famous colored diamonds that cost millions. Moreover, the clarity and cut of HPHT diamonds are second to none—so much so that many are considered to be rare investment diamonds.
The secret to buying an affordable high-quality, colored diamond is to find a HPHT diamond that has a secondary color. Diamonds with only one color are extremely rare, and therefore more expensive. So let's talk about which secondary colors will still provide you with a celebrity-style image, with a reasonable price tag.

Pink diamonds
Although there are many varieties of affordable pink diamonds, today we will focus our discussion around classic and glamorous trends in fashion—the nude pink colors. For years, we've seen this color in our lip gloss, eye makeup, and dress palettes. Even Louis Vuitton appears to be a fan of this color that exudes wealth and class. You can also achieve this elegant look with your jewelry by selecting a pink-brown HPHT diamond. Find an HPHT brown diamond with a higher presence of pink, and you will be able to easily afford it. Pair the diamond with a rose gold setting, and you will be en Vogue this season, and for many more to come.

Yellow diamonds
The most popular engagement diamond, second to the white or colorless diamond, is the yellow diamond. Yellow HPHT diamonds with high color intensities can be very expensive, but if bought right, can be more affordable than white diamonds. For the smart consumer, selecting a canary yellow HPHT diamond that has a hint of orange or white is the secret to buying a yellow diamond at an affordable price.

Champagne diamonds
Champagne diamonds have also become popular with the fashion-forward. As they are part of the brown family, these diamonds can be the most affordable and have exceptional structural integrity because of the absence of nitrogen (Type 2a diamonds). Many mainstream retail chains are now carrying them and referring to them as chocolate diamonds. Before shopping, be sure to contact us so you know how to buy the best quality, and reject sales pitches on those that are overpriced based on clever marketing.
Fancy colored HPHT diamonds are perfect for the woman who revels in her individuality, who is also a class act. When you understand the variation in pricing by selecting diamonds that have complementary primary and secondary colors, the dream of owning a stunning fancy colored diamond can become every woman's reality. To learn more about diamond color selection and value, please contact us.