She's the reason you are here, and why you are privy to experience this magical journey we call life. So why not give her a Mother's Day gift she will treasure every day, for the rest of hers?
Diamonds offer the most versatility when it comes to jewelry. Classically timeless, diamond studs and earrings can be flaunted by any fashionista, from the yoga enthusiast to the couture socialite. Like my mother always said, "As long as you are wearing diamonds, your hair and makeup will look fabulous."
This year, Hadar Diamonds is celebrating Mother's Day with a fine selection of diamond jewelry and birthstones from $1k to over $1M. Our recommendations include:
Reminiscent of Old Hollywood, this meticulously designed diamond and sapphire band is ideal to be crafted as a Mother's Day birthstone ring, or an accessory to her current diamond engagement ring. Traditionally set with .38 tcw diamonds and .55 ct Blue Sapphires, this beauty conveys a feminine, sophisticated beauty that can only be had with exquisite craftsmanship by the award-winning designers at Hadar Diamonds. For individual touches, inquire for the birthstones of your choice.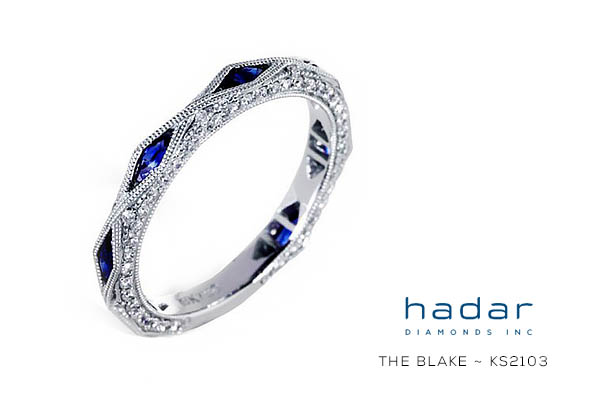 Adorn her with sparkle and shine with the Excellent cut .71 ct Round Brilliant Diamond. Suitable for a diamond engagement ring, a right-hand cocktail ring, or a "Wowza" diamond necklace, this stone will bring her joy every time she looks at it. Top-tier E color, Excellent Cut, SI1 clarity, and more sparkle than you can handle!


An extraordinary find, this unusually beautiful pair (2) of 1.51 ct round brilliant diamonds will render her speechless. Perfectly suited for each other, this pair dons highly desirable Triple Excellent grades, no fluorescence, amazing VVS1 clarity, and top-tier E and F color. If you are looking to light up her face (and everyone else's in the room), we highly recommend this pair of 3.02 tcw stunners. A truly beautiful and collectible set to be treasured and handed down for generations.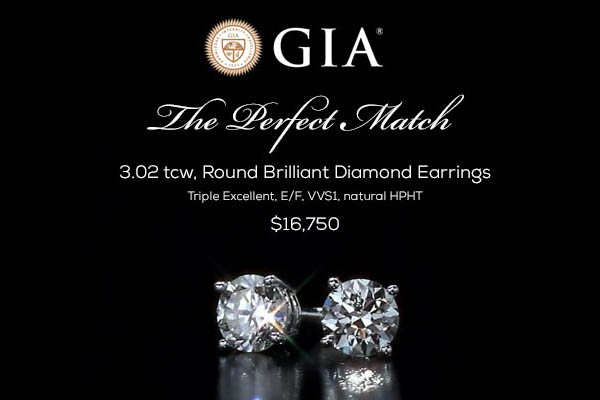 If you are looking for a one-of-a-kind Mother's Day diamond, consider the 1.07 ct GIA Certified, natural HPHT Pear shaped diamond. With a Fancy Intense Pink grade, this magnificent beauty displays a hard-to-find "baby pink" color, with Even color distribution. Pair this characteristic with its incredibly stunning VVS2 clarity, and you will instantly be claimed as Mother's favorite. Additional highlights of this pear shaped diamond include perfect shoulders, no frosting at the tip, and beautifully fashioned for a show-stopping entrance. Fit for the sophisticate or the woman who has it all and wants more, this stone will be the apple of her eye and suitable to pass down for generations.


Perhaps you were an "overly-effervescent" child? If so, this is the one to help you regain the number 1 position on Mother's list. This 8.01 ct Round Brilliant, natural HPHT diamond has an incredibly delicious Fancy Purplish Pink color, Even color distribution, with a VVS1 clarity grade that will bedazzle her. A delightful bonus to this rare jewel includes GIA certified "Very Good" grades on polish and symmetry. A non-enhanced diamond with similar characteristics would fetch millions, if not priceless. We invite your call to discuss its color and how this diamond serves as an asset.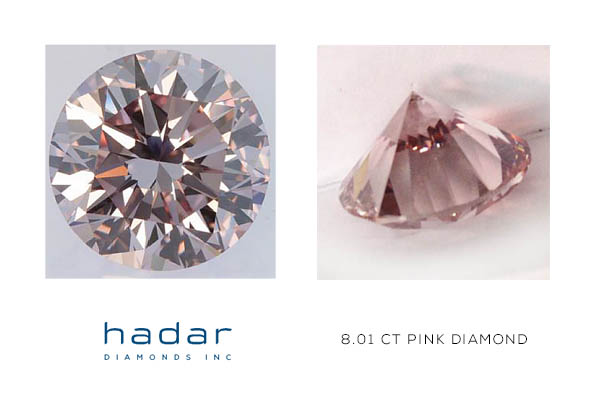 For other diamonds or special requests, inquire by contacting us: https://www.hadardiamonds.com/contact/