New diamond specials just in time for CyberMonday! If you are looking for a 3+ carat diamond today, look no further. Hadar Diamonds just received a new parcel of 3+ carat diamonds suited for all price ranges. Continue to visit often today for updates on larger-than-average sparklers. This afternoons' deals include:
1) 2.94 ct., Round Brilliant, SI1 clarity, Laser Drill Only Diamond | $8,200
Yes, it's possible to have a 3 carat diamond engagement ring for under $10k! Weighing in at just under 3 carats, this 2.94 ct. Round Brilliant diamond appears like a 3 carat diamond. It possesses magnificent sparkle and has top measurements of 8.81 x 8.85 mm. A perfect candidate to be set in a classic solitaire or halo engagement ring for more bling. Watch the actual video here:
2) 3.37 ct., Round Brilliant, highly desirable VS2 clarity, Clarity Enhanced Diamond | $14,200
Looking for a large size with extra sparkle and affordability? This 3.37 ct. Round Brilliant, clarity enhanced diamond will fit beautifully on her hand and your budget. Impress her this Christmas or holiday with a sparkler that will make her the envy of all of her girlfriends. A rare find with VS2 clarity and H color that faces up white.
This is a new diamond (12/1/2014). For photos, contact us.
3) 3.89 ct., Round Brilliant, GIA , Internally Flawless, D, Triple Excellent, natural HPHT | $84,999
For the woman who wants everything in a diamond. The 3.89 ct., Round Brilliant diamond will satisfy even the most demanding taste. With a GIA certified top D color, Internally Flawless clarity, and Triple Excellent rating of cut, polish, and symmetry, this colorless sparkler is fit for your dream partner's hand and worthy of the vault.
A non-HPHT processed diamond with these characteristics would sell for approximately $400k, according to the diamond wholesale guide.
View the GIA Certificate: https://www.hadardiamonds.com/media/images/g389-d-flawless-round-brilliant-hpht-diamond-triple-excellent.pdf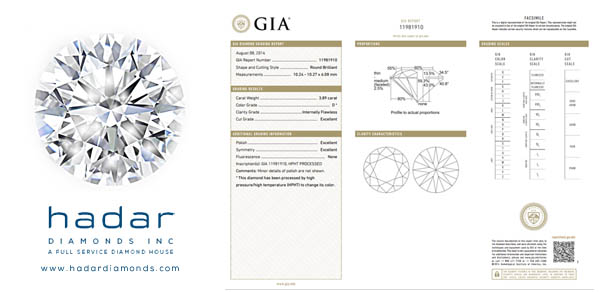 This is a new diamond (12/1/2014). For photos, contact us.
Hadar Diamonds will be updating the website with new inventory by the hour. We welcome you to visit often or contact us for more information.