Why Buy A GIA Certified HPHT Diamond?
GIA certified HPHT diamonds (High Pressure High Temperature) are becoming more popular with soon-to-be newlyweds and investors alike. In this discussion, we will provide a brief overview of what GIA certified HPHT diamonds are, and, review the advantages of buying an HPHT diamond.
Candidates for HPHT processing are brownish, type2a diamonds, mined from the earth. Unlike other diamonds, ALL HPHT diamonds must possess the highest clarity grades. For example, an HPHT diamond will typically carry a clarity grade of VVS2 to FL, while other natural diamonds can range in clarity from Flawless (IF) to I3 (many visible flaws).
The reason HPHT diamonds are valuable and will always carry the highest clarity grades is because only diamonds that are over .75 carats and near flawless to flawless can physically handle the High Pressure High Heat (HPHT) process. This type of environment can only be endured by the most structurally sound diamond. So, one may ask, why would a diamond undergo the HPHT process in the first place? The answer is, although the diamond is ideal structurally, the diamonds selected for the HPHT process are always somewhat brown in color. They are very beautiful and have considerable value on their own, however, white or colorless diamonds are most desired and costly, especially for engagement rings. HPHT diamonds can be purchased at a minimum of 45% less than comparable GIA certified diamonds. HPHT diamonds are also available in fancy intense and vivid colors. Simply put, the HPHT process changes the original color of the diamond with the same heat and pressure that Mother Nature produced millions of years ago.
What are the main advantages of buying a GIA certified HPHT diamond?
There are three major advantages of buying a GIA certified HPHT diamond over other diamonds.
One, for the aesthetic value. GIA certified HPHT diamonds are intrinsically gorgeous. HPHT diamonds have crystal clear fire and brilliance, and are designed to be stunningly colorless. HPHT diamonds are indistinguishable from non-HPHT processed diamonds and are worthy of the vault. An increasing amount of Hollywood actresses are known to be flaunting HPHT diamonds for their lasting beauty.


Two, for the practical value. As mentioned earlier, HPHT diamonds are solid and extremely sound, structurally. They can withstand pressure over 1,000,000 psi and heat over 1,800 degrees centigrade. An HPHT diamond is stable and will endure for all generations to come.


Three, for the value of the money spent. Buying GIA certified HPHT diamonds saves the consumer 45-63% over a traditional diamond of the same clarity, cut, carat size, and color. For example, we have a GIA certified HPHT, 1.04 carat, rare, D color, IF (internally flawless) clarity diamond with excellent cut, polish and symmetry that sells for $15,885.00. A traditional diamond with these specifications would cost $29,120.00.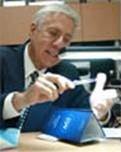 "The more you know...
the less you pay."
Interested in hearing how Hadar Diamonds can meet your diamond and jewelry needs? Email Gerry at Gerry@hadardiamonds.com or call or text to 619-572-8100.
All potential clients have an opportunity to view diamonds at home: risk-free, no charge, and no obligation to buy. Free FedEx overnight shipping (with insurance). Go to HadarDiamonds.com for more information.