What is an HPHT diamond?
The HPHT (High Pressure High Temperature) technological method allows customers to purchase a high-quality diamond in desirable colors at reasonable prices. These diamonds can be priced up to fifty percent less than unprocessed diamonds.
How does a diamond get processed under the HPHT method?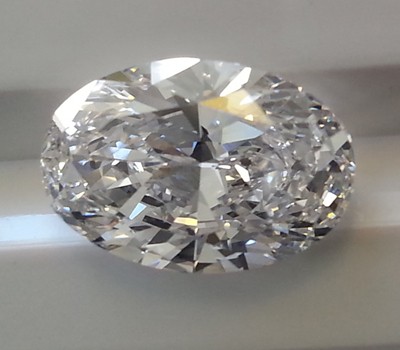 This method recreates the process that happens deep within the Earth's crust when a natural, colorless diamond is created. On a diamond's journey to the surface of the Earth, through added pressure and heat, a diamond becomes discolored, turning a yellow or brown shade. The HPHT process puts the diamond back into a high temperature, high-pressure environment, with temperatures soaring up to 2,600 degrees Celsius, returning the diamond to its natural colorless beauty.
Only a few diamonds in the world are resilient enough to survive this process. Diamonds from the 2a rough, which represent approximately 1/2 percent of the total number of global diamonds mined, can tolerate the HPHT process because of their structural integrity and high purity. Because of the rarity of these diamonds, a limited supply of HPHT natural diamonds exists.
How do you know you're buying a high-quality HPHT natural diamond?
For any lab that produces an HPHT natural diamond, vast knowledge is required to choose the right diamonds to undergo this process to achieve desirable results. The Gemological Institute of America (GIA) deems HPHT diamonds to be stable and permanent. If your HPHT natural diamond comes with a GIA certification, you're receiving proof that your diamond was verified by the most stringent authority on diamonds.
At Hadar Diamonds, we encourage you to experience the fascinating process of an HPHT natural diamond by watching this video. If you'd like to learn more about the most stunning, high-quality GIA-certified HPHT natural diamonds, explore some additional facts about HPHT natural diamonds or contact us, and we'll be glad to share our expertise with you.
To find out more about these beautiful stones offered at a great price and friendly customer service, please contact Gerry at Hadar Diamonds at Gerry@hadardiamonds.com or via telephone at 858-737-4862. Gerry can also be reached via text at 619-572-8100.
Grade: G, SI2, Very Good Cut, laser drilled diamond
What we love about this diamond: Absolutely stunning! This diamond relays stunning sparkle and brilliance, a pretty white color, with an impressive large carat weight size of 2.48. A real looker!
Ideal for: This diamond is perfect for the couple looking to have a white, show-stopping 2+ carat diamond for under $9k.
Price: $8,330
Appraised value: $24,603
Recommended engagement ring pairing: "The One" Classic Solitaire in 14K white gold.
Want to see more before you buy a diamond online?
Inquire for an In-Home Diamond Preview and silver models of custom rings to see what it will look like on your hand prior to final design. Complimentary 3D CAD's available for custom ring design orders.
For more choices and early Cyber Monday Diamond orders, contact Hadar Diamonds.